For healthcare organizations operating across multiple locations getting data insights about facility performance, revenue summary, departmental information and more is vital to work towards creating an efficient patient support system. Though, the majority of the time, the data generated by healthcare workers is siloed and stored at different locations. And, often this data does not help generate valuable, meaningful, and much anticipated insights. Microsoft's Power BI helps connect such disparate data sources to offer real-time insights. With this cloud-based business analytics platform, healthcare companies can uniquely visualize data, monitor insights and share dashboards to ultimately make data-driven decisions.
Learn how we helped a US-based healthcare provider to leverage Power BI & build a healthcare financial dashboard to get a unified view of their business data.
Project Overview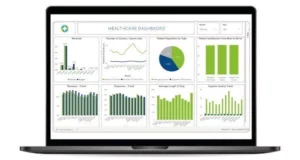 A leading India-based health & wellness innovator offering personalized hormone therapy solutions wanted to unlock the data and have it presented on a platform to better track performance, sales & revenue. With limited exposure to the technical world, they were in pursuit of an experienced technology partner to develop a single-view platform for data modeling and visualization to extract crucial insights.
Challenges
Manual reporting process
Data spread across multiple systems
No centralization of reporting mechanism
No single source of truth for revenue generated
Lack of integration with relevant non-financial data components (performance KPIs)
Solution
We developed a healthcare financial dashboard by utilizing Power BI for CFO tracking with relevant KPIs. It would include key insights on revenues (YoY performance, department-wise breakup, targeted vs achieved & coverage). Further, it enables other business stakeholders & Regional Manager (RM), Divisional Manager (DM) & Team Manager (TM) with role-based access to report creation & analysis.
The customer needed integration of the data warehouse with Power BI to create daily, weekly and monthly reports with multiple tabs as per the KPIs to monitor the various clinics' performance. Further, with our experience, we offered a right comparison of Target Vs Actuals by utilizing Data Modeling and DAX Queries. The interactive dashboard now serves as a single source of truth with a granular level of understanding across daily, weekly, monthly & yearly earnings.
Highlights from the newly developed dashboard:
Patient Visit Summary – patient headcount insights
Monthly clinical performance
CFO dashboard
Executive dashboard – Area manager, regional manager & district manager performance
Benefits
84% reduction in operational efforts for performance monitoring
43% easy tracking of RM, DM & TM performance
47% improvement in business decision-making across KPIs
Customer Profile
A US-based health & wellness provider focused on hormone therapy solutions.