The cloud computing industry has showcased rapid growth with exploding options into a vast array of cloud providers, technologies, products, and services. Today, even a simple cloud deployment offers hundreds of options. Therefore, choosing between cloud technologies – Azure vs AWS is a pertinent question most organizations encounter.
And, while both the cloud ecosystems offer countless benefits from superior computing power, scalability, and security to unrivaled cost-effectiveness and carbon footprint reductions – the consideration of one over another becomes difficult.
Through this article, we will explore factors that will help you decide between AWS and Azure – which one makes the most sense for your business.
Here's What We'll Cover
AWS vs Azure – Why the Comparison?
Azure vs AWS Feature Parameters
Prerogative & Use Cases
AWS vs Azure – Why the Comparison?
You would agree, both Amazon and Microsoft are global leaders in their respective fields. With each having a unique history for innovation, excellence, and market dominance. Embarking into the cloud frontier, they have the ideal technological foundation, expertise, and financial muscle to develop leading cloud computing platforms.
Even in Gartner's Magic Quadrant for Cloud Infrastructure and Platform Services (July 2021), both AWS and Microsoft have emerged as "leaders". With AWS, securing the dominant and farthest position on the ability to execute and completeness of vision axes.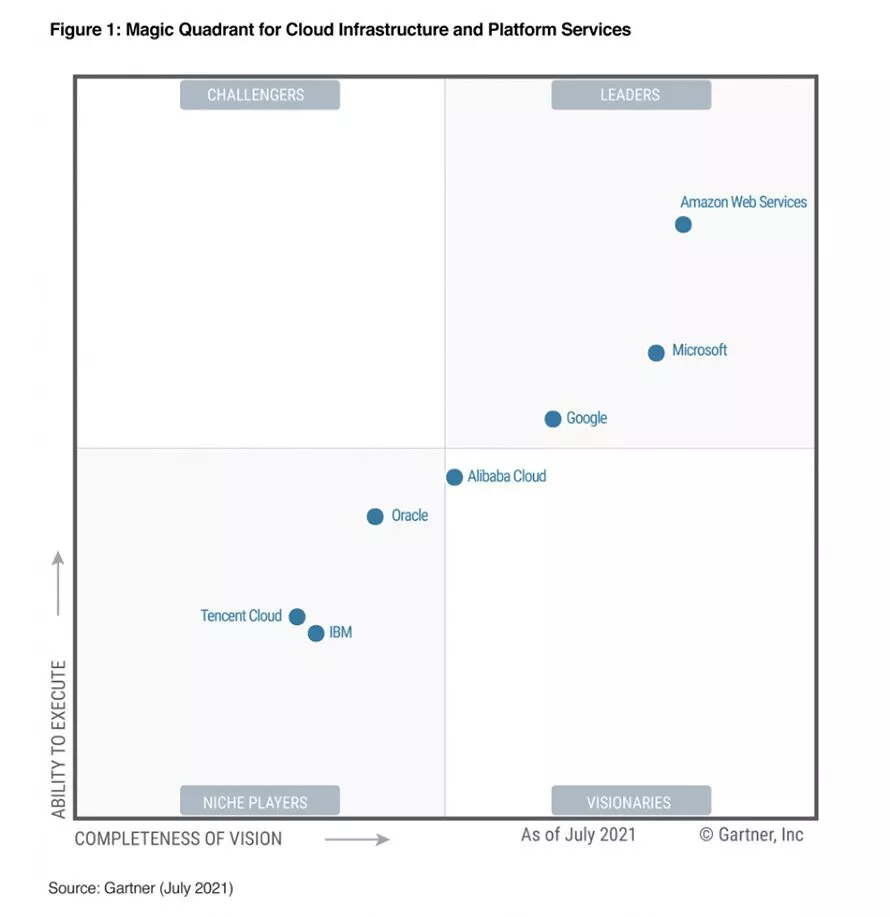 Though interestingly, both Microsoft Azure and AWS have a combined control of more than 50% of spending on worldwide cloud infrastructure services.
In the first quarter of 2021, Amazon reported a spend of $13.5 billion as opposed to $10.2 billion in the first quarter of 2020. This is a 32% increase in revenue in just a year!
When it comes to Microsoft, its FY21 Q3 earnings release for the Intelligent Cloud category grew by 23% to $15.1 billion, which was primarily led by Azure's 50% revenue growth.
Azure vs AWS Feature Parameters
The correlation between AWS and Azure cloud platforms is no simple task. Today, both platforms offer hundreds of competitive cloud solutions encompassing countless products and services. There is a wealth of choice spanning across categories coupled with modern technologies.
While doing the apple to apple comparison, we'll help provide the knowledge and understanding of the two technologies across the listed sections.
Compute
Networking
Storage
Security
Support
Billing and pricing
This would simplify your decision-making process of cloud products across several business-critical categories.
So, let's dive right into it!
Compute
With Azure vs AWS compute comparison, the focus is primarily on virtual machines (VMs). They are forming the cloud environment's backbone with VMs emulating the physical computer systems' functionality and power for almost any workload one can think of.
AWS: AWS EC2 users have the option to configure the VMs or choose pre-configured machine images, or customize Machine Instances (Mis). Further, the users can choose size, power, memory capacity & number of VMs, and select from different regions and availability zones from where to launch from.
Azure: Azure VM users choose Virtual Hard Disk (VHD), equivalent to a MI. VHD can be pre-configured by the Microsoft team, the user, or a third party. The user must specify the number of cores and memory.
Networking
AWS: Amazon offers Virtual Private Cloud (VPC) to enable users to create isolated networks within the cloud. Within a VPC, any user can create subnets, route tables, private IP address ranges, and network gateways.
Azure: Microsoft offers Virtual Network (VNET) that empowers the users with the ability to create isolated networks as well as subnets, route tables, private IP address range & network gateways.
Storage
AWS: Offers temporary storage that is allocated once an instance gets started and is destroyed when the instance is terminated. Further, block storage (same as hard disks) can be separate or attached to an instance. With S3, object storage is offered and data archiving services with Glacier. Fully supports relational and NoSQL databases and Big Data.
Azure: Offers storage; 1) through D drive (temporary), 2) through Page Blobs for VMs and Block Blobs. Supports relational databases; NoSQL and Big Data through Azure Table and HDInsight. Further, Azure also offers site recovery, import-export & Azure Backup for additional archiving and recovery options.
Security
AWS: With a long-standing relationship with government agencies, it adheres to compliance offerings include certifications in ITAR, DISA, HIPAA, CJIS, FIPS, and more. Further, it even offers security to verified individuals for accessing the cloud – a must for agencies handling sensitive information.
Azure: Microsoft claims to have more than 50 compliant offerings, including ITAR, DISA, HIPAA, CJIS, FIPS. It provides the same level of security as Amazon while setting up permissions to access any level of cloud environment.
Pricing Models
AWS: Offers a pay-as-you-go model, charged on an hourly basis. And, the instances are purchasable based on the following models:
On-demand: Pay for what you use without any upfront cost
Reserved: Block an instance for 1 or 3 years with a specified upfront cost based on the use
Spot: Customers bid for extra capacity available
Azure: Offers a pay-as-you-go model, but the charges are on a per-minute basis. It provides short-term commitments with options that could vary between pre-paid or monthly charges.
Support Plans
Both AWS and Azure offer basic cloud support plans, along with a range of paid premium plans. If you're considering a premium plan, research and understand what's included along with the associated fees, ensuring you pick a plan you need at a price you can afford.
AWS: Offers four available support plans that are split between free and premium tiers. The premium support is divided across three tiers: Developer, Business, and Enterprise. Do visit, if you wish to learn about the support mechanism included by AWS for serving the customers.
Azure: Users are billed a flat monthly rate. Microsoft offers five Azure support plans: Basic, Developer, Standard, Professional Direct, and Premier. Explore the range of Azure support options you can leverage while starting your cloud journey for deploying business-critical, strategic applications.
Cloud Experience with MS Azure and AWS
The fact remains that both Azure and AWS are cutting-edge providers with the very best cloud platform, products, and services to offer. Wherever you end up, you'll unlock a wealth of cloud benefits. Having worked with both platforms, we are uniquely positioned to help global organizations meet their business's unique requirements and realize the full potential of the cloud.
We cater to the needs of enterprises of all sizes. Our 360-degree consulting approach includes a comprehensive technology assessment, designing of a strategic roadmap and execution of a proof of concept to help you reduce operational costs. Our specialized team of consultants can help you seamlessly migrate your existing IT infrastructure and on-premises apps onto the cloud. Our extensive experience in modernizing legacy apps & building tailored solutions make us a preferred partner for organizations large and small.
Check out our specialized services focus;
Azure cloud consulting services
AWS consulting services
Now that you have a fair idea about how the two cloud giants are different, let's also look at how we enabled some of our global clients to seamlessly transition to the cloud.
Use Case 1
Data Warehouse System using AWS
An American hospitality giant wanted to integrate their data from business apps like RMS, Cognito Forms, Opera and more into a single platform.
We helped them by developing a cloud data warehouse solution with on-demand BI reporting. The robust solution featured the following:
Single & powerful repository
Easy data integration
Customer management
Opportunity assessment & planning
Benefits;
50% increase in workflow efficiency
99% accuracy of business understanding available on-the-go
Improved decision making due to reporting & visualization
Use Case 2
Real Estate Portal Development using Azure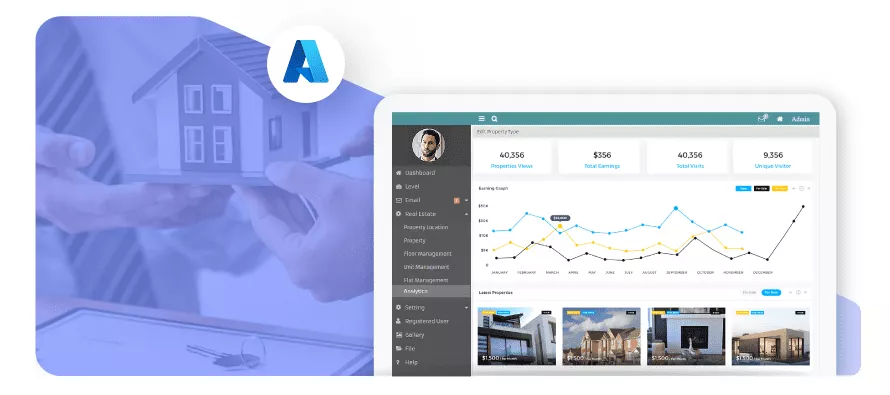 A North American Realtor wanted a system that would connect agents, buyers and sellers.
We helped the client develop an intuitive cloud-based real estate portal on the Azure platform. This would meet their business objectives & align with their growth plans. Here's what the solution featured:
Alerts & notifications
Integration with business systems
Reporting and analytics
Benefits;
300,000 + visits per month
50K+ registered users post-upgrade
45% reduction in operational expenses
Concluding Thoughts
Choosing a cloud service provider can create a major impact on the way your organization functions in the years to come. Our goal with this head-to-head comparison is to help business owners make informed decisions. Today, AWS is the market leader – due to its features, global reach, and length of time on the market. However, if most of your business operations run on Microsoft products, Azure might be a better solution for you. In the end, the choice is yours. Choose wisely.
Also, while the above consideration factors are critical, it is important to consult with a cloud partner like Hash Bang Industries to decide the right course of action. With a proven track record of carrying out multiple successful projects, we're are always ready to kick off your cloud mandate in style by offering extreme performance, high availability, and unlimited potential to grow.